Kate Woodman RVN
Practice Director and Head Nurse
Kate joined the team at Goudhurst at the start of 2014, originally as just our head nurse, but is now also the practice director. Since qualifying and registering as a nurse in 2010, Kate has worked exclusively with small animals and has undertaken additional training in many different areas. She loves all aspects of running the clinic but has a particular interest in anaesthesia, small animal husbandry, nursing care plans and well pet clinics. In her spare time Kate has a menagerie of her own to look after and enjoys doing agility with her little dog.
Michelle Smith RVN DipAnPhys
Deputy Head Nurse
Michelle qualified in 2010 and joined the team here at Goudhurst in 2017 as deputy head nurse. She has a keen interest in physiotherapy for small animals and has been qualified in this area since 2015. At home Michelle has two dogs and two cats, and loves taking her Spaniel to agility in her spare time.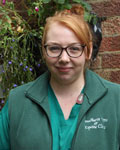 Emma Reed RVN
Emma qualified in 2013 and has worked in veterinary practice ever since, joining the Goudhurst team in November 2015. Emma enjoys all aspects of veterinary nursing but has a special interest in radiography, anaesthesia and a great love of rabbits. At home Emma is kept busy with four house rabbits and two cats. Outside of work she enjoys reading, pet and house sitting, and spending time with friends and family.
Claire Simpson RVN
Claire qualified in 2004. Since working in the veterinary industry she has 'accumulated' a one-eyed cat called Piglet, a one-eyed Shih Tzu called Lily, and a Chihuahua cross called Mojo. Claire enjoys all aspects of veterinary nursing, with a particular interest in laboratory and surgical work. Outside of nursing Claire has two children who like to keep her on her toes. She also enjoys playing netball.
Jo Hall
Student Veterinary Nurse
Jo is our student veterinary nurse who began her studies in January 2006. Before coming to us she gained a BSc in equine sports performance which has given her a keen interest in the biomechanics and behaviour of the domesticated horse. Following this she gained an MSc in applied animal welfare and behaviour, where she developed knowledge and an interest in the behaviour of our domesticated animals. She currently runs our puppy parties which allows her to help puppy owners address behavioural or training issues early on. She is always happy to assist owners with any behavioural issues in dogs, cats or horses if she can. Since working with us Jo has become interested in lab work and outside of the practice enjoys horse riding, reading and spending time at home with her cat, Binks.
Natasha Winton
Student Veterinary Nurse
Tasha joined the practice in January 2018 as a patient care assistant but has now progressed to become a student veterinary nurse. She is looking forward to furthering her knowledge of the veterinary world and qualifying as an RVN in the future. Tasha particularly enjoys emergency care and has a keen interest in small animal surgery. She is also the ISFM cat advocate for the clinic with the aim to insure that all cats are treated with care, compassion and understanding. At home Tasha has a Labrador Retriever of her own who keeps her fairly occupied.