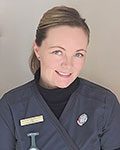 Lacey Sanchez-Rodriquez RVN
Practice Director
Lacey joined us in March 2020. She had previously worked at a veterinary practice in Surrey for 15 years, starting as a Student Veterinary Nurse then becoming a Registered Veterinary Nurse and the last 10 years of her time there as the Head Nurse. Prior to this she had acquired a HND in Equine management and worked within the Equine industry.

This Practice Director position provided the career progression that she was looking for whilst still allowing her to continue to use her veterinary nursing skills.

She's had a variety of pets from hamsters and rats to dogs, cats and horses. She loves working with the passionate and dedicated team here at Goudhurst Vets.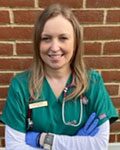 Elizabeth Marks RVN
Registered Veterinary Nurse
Liz has been working in veterinary surgeries since 1998, qualifying as an RVN a few years later. She has worked in a variety of practices in the Kent region, mainly in a Head Nurse position. She also holds the certificate in Feline Nursing from ISFM. Her main interests are in promoting cat friendly practices within the vet profession plus general rabbit welfare.

Liz loves any animal whether it meows, barks, snuffles or squawks and has a variety of rescue animals at home, plus a couple of human kids.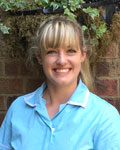 Michele Slade RVN
Registered Veterinary Nurse
Michele joined our clinic in May 2019 as a 3rd year student veterinary nurse. She has a keen interest in emergency and critical care.

At home Michele has two dogs that she enjoys taking to fly ball, as well as a horse, guinea pigs, rabbits and turtles.
Molly Randall RVN
Head Veterinary Nurse
Molly has been in the veterinary industry since 2018 and became Head Nurse in 2023. Her passion is surgical nursing and wound management. Molly has carried out further training with the Blue Cross to support clients in their bereavement journey. She is the practice Environmental advocate and is invested in helping the practice and their sustainability.

Molly loves her cats and has 3 practice rescues that she has helped rehabilitate and hand rear at home.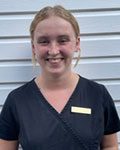 Kirsty Broughton
Student Veterinary Nurse
Kirsty joined the practice in June 2022 after finishing a degree in Animal Behavior and Welfare at the University of Plymouth. As part of her degree she spent 6 months working at Jersey Zoo, where she found a particular love for the giant fruit bats and howler monkeys. She is looking forward to furthering her career by beginning training to become a nurse next year.

Outside of work Kirsty enjoys reading, crochet and Morris dancing, as well as trying to keep her two Border Collies and Labrador cross entertained. The three dogs get on very well with the four tortoises she also has at home.
Katy Morgan
Student Veterinary Nurse
Katy joined the practice in September 2020 and progressed to become a student veterinary nurse in September 2021. She is looking forward to furthering her knowledge of the veterinary world and qualifying as an RVN in the future. Katy has a keen interest in puppy development and canine health.

In her spare time, Katy likes to play hockey, rugby and walk her two Cocker Spaniels, Luna and Poppy.