Francesca Taylor BVetMed MRCVS
Clinical Director Small Animal & Equine
Francesca became clinical director at Goudhurst Vets in February 2011. She qualified from the Royal Veterinary College in 2004 and after 12 months in mixed practice undertook an equine internship at Bell Equine Veterinary Clinic near Maidstone. This involved all aspects of equine work including emergencies, anaesthesia, reproduction and inpatient care. After this intensive year she remained at Bell Equine as part of the ambulatory team for a further two years. Following a brief spell travelling and doing some stud work in Australia Francesca moved to Leicestershire and worked in a mixed practice for 18 months before returning to Kent. Francesca has a particular interest in small animal medicine, especially geriatric cats, but she also enjoys equine reproduction. Francesca aims to maintain the excellent standard of care that Claire has always offered her clients and to keep Goudhurst as a friendly and welcoming practice. When she's not working she is kept busy by her beloved (occassionally naughty) Welsh Terrier, Maud, who is rarely seen at the clinic due to her desire to chase cats! She has two children and now works everyday apart from Mondays and Thursdays. When time allows she enjoys playing hockey.
Caroline Borer BVetMed CertSAS MRCVS
Caroline grew up in Wimbledon and graduated from the Royal Veterinary College. She moved from London to Kent in 2013 and has worked in a variety of mixed and small animal practices in Surrey, Sussex and London. She obtained her certificate in small animal surgery in 1999 and has particular interests in soft tissue surgery, oncology and feline medicine. Since living in Kent she has acquired Nelson, a one-eyed cat from the local charity Streetkatz, and is hoping to add a few more animals to her household soon.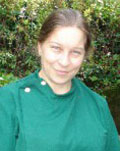 Karen Casswell BSc (Hons) BVSc CertOphthalm MRCVS
Karen joined us in 2004 as a consultant ophthalmologist, running clinics here for our clients and referrals from other practices. She qualified at Bristol University in 1993 and was awarded her certificate in ophthalmology in 1999.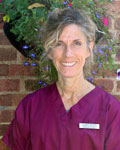 Claire Devitt BVetMed CertEP MRCVS
Small Animal & Equine
Claire qualified from The Royal Veterinary College in 1989. She has worked in mixed practice and equine practice in Berkshire and Lambourn, doing a lot of race horse, eventing and polo work. Claire won two travel scholarships to USA and Canada, where she studied equine colic and laminitis in Georgia, Kentucky and Guelph. She has also gained the certificate in equine practice. In 1998 Claire set up Goudhurst Vets and has worked here since then, handing over management to CVS in 2010. She loves all aspects of her work, particularly feline and equine medicine and surgery. Claire has two children, three cats, two guinea pigs and four chickens.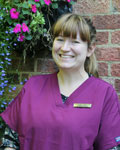 Sarah Rutherford BVetMed PhD MRCVS
Sarah gained a BSc biology degree at the University of Bath before pursuing a research career at the Royal Veterinary College (RVC), obtaining an MSc and PhD and teaching on the veterinary courses. It was during her time at the RVC that Sarah realised her lifelong dream of becoming a veterinary surgeon and she became a student again. Sarah joined the team in July 2017 at the end of her maternity leave and has a particular interest in internal medicine and imaging, and hopes to undertake a certificate to further specialise in these areas. Outside of work she enjoys spending time with her husband and their son. Sarah's spare time is filled with her two Border Terriers, Alfie and Mabel, rescue cat named Tink and riding her horses Stella, Boris and Bessie.