Caroline Borer BVetMed CertSAS MRCVS
Veterinary Supervisor
Caroline grew up in Wimbledon and graduated from the Royal Veterinary College. She moved from London to Kent in 2013 and has worked in a variety of mixed and small animal practices in Surrey, Sussex and London. She obtained her certificate in small animal surgery in 1999 and has particular interests in soft tissue surgery, oncology and feline medicine.

Since living in Kent she has acquired Nelson, a one-eyed cat from the local charity Streetkatz, and is hoping to add a few more animals to her household soon.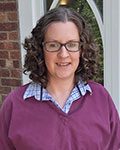 Claire Coombe-Jones BVetMed MRCVS
Veterinary Surgeon
Claire qualified from Cambridge University in 2011 and has worked in small animal practices in Oxfordshire and Kent since then. Having grown up on a farm in Goudhurst and visiting the practice many times as a client, on work experience and as a vet student over the years, she was delighted to officially join the team in 2021.

Claire has a particular interest in surgery and outside of work enjoys walking, gardening and silversmithing. She has a rescue cat called Luna.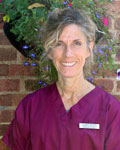 Claire Devitt BVetMed CertEP MRCVS
Veterinary Surgeon
Claire qualified from The Royal Veterinary College in 1989. She has worked in mixed practice and equine practice in Berkshire and Lambourn, doing a lot of race horse, eventing and polo work. Claire won two travel scholarships to USA and Canada, where she studied equine colic and laminitis in Georgia, Kentucky and Guelph. She has also gained the certificate in equine practice.

In 1998 Claire set up Goudhurst Vets and has worked here since then, handing over management to CVS in 2010. She loves all aspects of her work, particularly feline and equine medicine and surgery.

Claire has two children, three cats, two guinea pigs and four chickens.
Charlotte Heath BVMSCi MRCVS
Veterinary Surgeon
Charlotte joined us in July 2022 after graduating from University of Surrey in 2021. She has a lifelong love of animals and has her dogs Ralphy and Lola and 2 horses. Charlotte loves small animal medicine but will also be increasing her equine experience. She also enjoys meeting clients and building client relationships.

Outside of work Charlotte enjoys time with her dogs and horse riding.