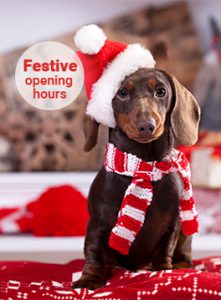 Please see below for our Christmas and New Year opening times.
We would like to wish all our clients and their animals big or small a very Merry Christmas and a Happy New Year!
Monday 24th December: 8am – 5pm
Tuesday 25th December: CLOSED
Wednesday 26th December: CLOSED
Thursday 27th December: 8am – 7pm
Friday 28th December: 8am – 7pm
Saturday 29th December: 8.30am – 12pm
Sunday 30th December: CLOSED
Monday 31st December: 8am – 5pm
Tuesday 1st January: CLOSED
Please note that when the practice is closed during this festive period there will still be an emergency service provided. Please see our emergency services pages for small animals or equine for more details.