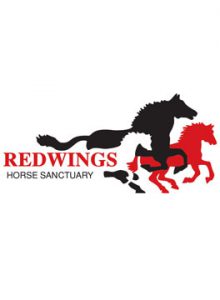 Colleagues across our practices have this year voted the CVS equine charity of the year as Redwings Horse Sanctuary, the UK's largest horse sanctuary charity.
With over 1,500 horses, ponies, donkeys and mules cared for every day at their farms across the country, Redwings operates nationally with rescue teams working tirelessly to save mistreated equines and bring them to safety. No matter how complex their health or behavioural needs, every horse or donkey is offered a loving home for life at the sanctuary.
Thanks to the generosity of supporters, they operate their own horse hospital with an X-ray room and operating theatre, as well as intensive care stables. Using ethical training techniques, a highly-skilled behaviour team also help new arrivals – many of whom are semi-feral or have endured terrible neglect, settle into life at the sanctuary and learn to trust humans again.
On top of rescued residents, another 450 live on permanent loan in loving guardian homes. They rehome rescued horses and ponies – to be ridden or as companions – across East Anglia, and this will be expanding to central England in the New Year with the exciting opening of a new rehoming centre.
Redwings explained: "We believe every equine has the right to a happy and healthy life, free of fear and neglect. Everything Redwings does is 100% funded by donations which is why we're so thrilled to have your support this year!"
Everyone has the chance to meet Redwings' rescued residents and hear their stories at their five visitor centres in Norfolk, Essex, Warwickshire and Angus, which are dog-friendly and free to enter.
Donations of all sizes can really help support their work, from £10 which could fill a horse's stable with bedding to £75 which could fund dental and health checks for a new arrival. Depending on their needs, it costs between £3,000 and £5,000 per year to care for each horse or donkey at Redwings – so every penny raised can really help!
If you would like to find out more about Redwings Horse Sanctuary or would like to get involved please see their website or follow them on Facebook or Twitter.